Hey all!
Decided to make a move over to
amazinglystill.blogspot.sg
: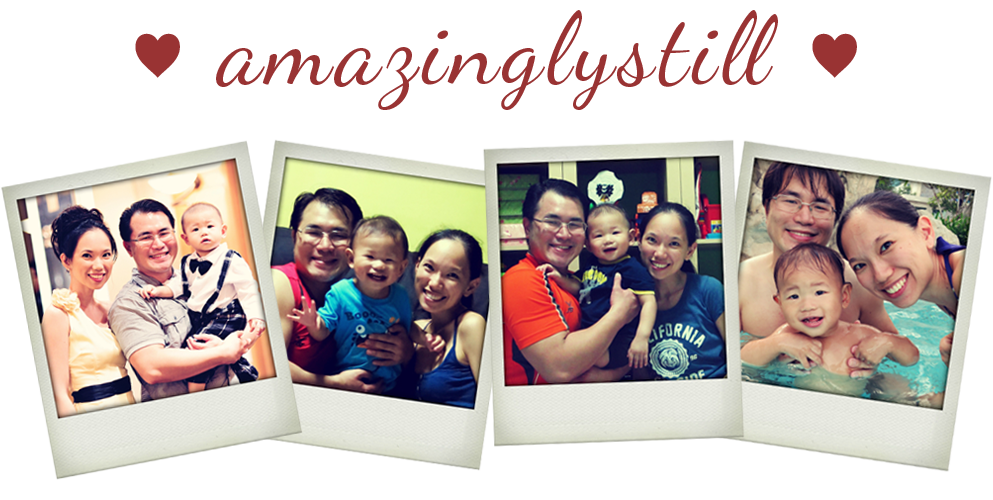 Do support me over there!! :D
20 June 2011: Cam-whoring strikes again!! Playtime with my baby boy in his playroom (now his bedroom). Seeing how his room used to look makes me wonder how we ever managed to keep all his toys away! And isn't he just OH SO CUTE in these photos? Hehe.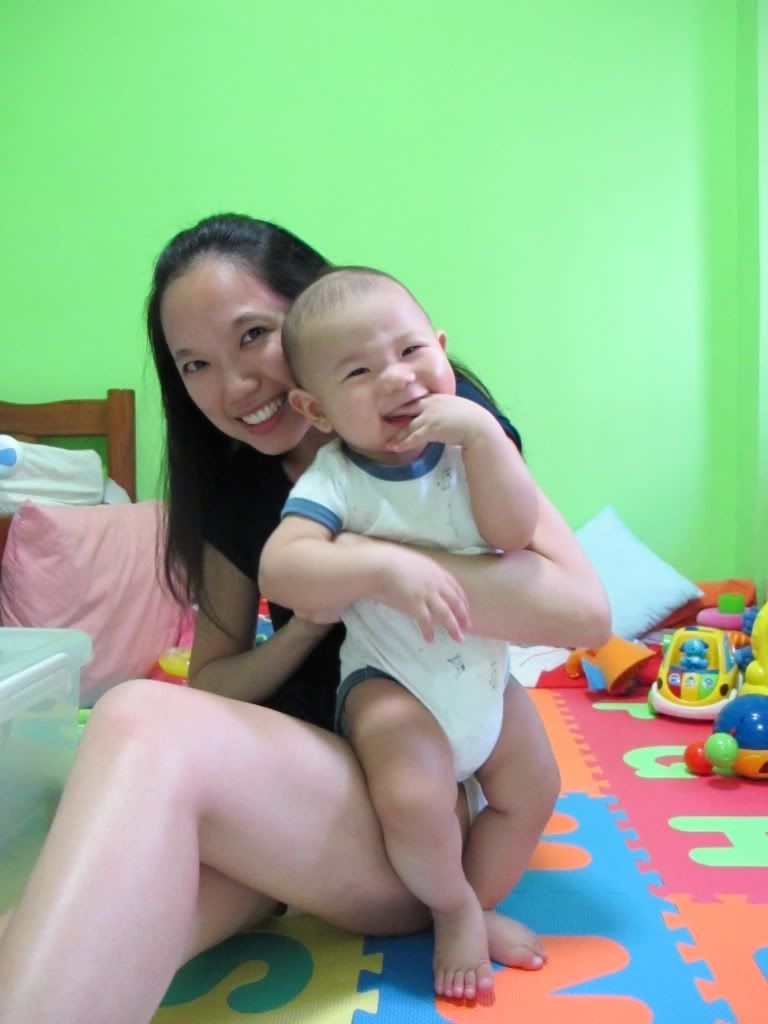 Dance, baby, dance!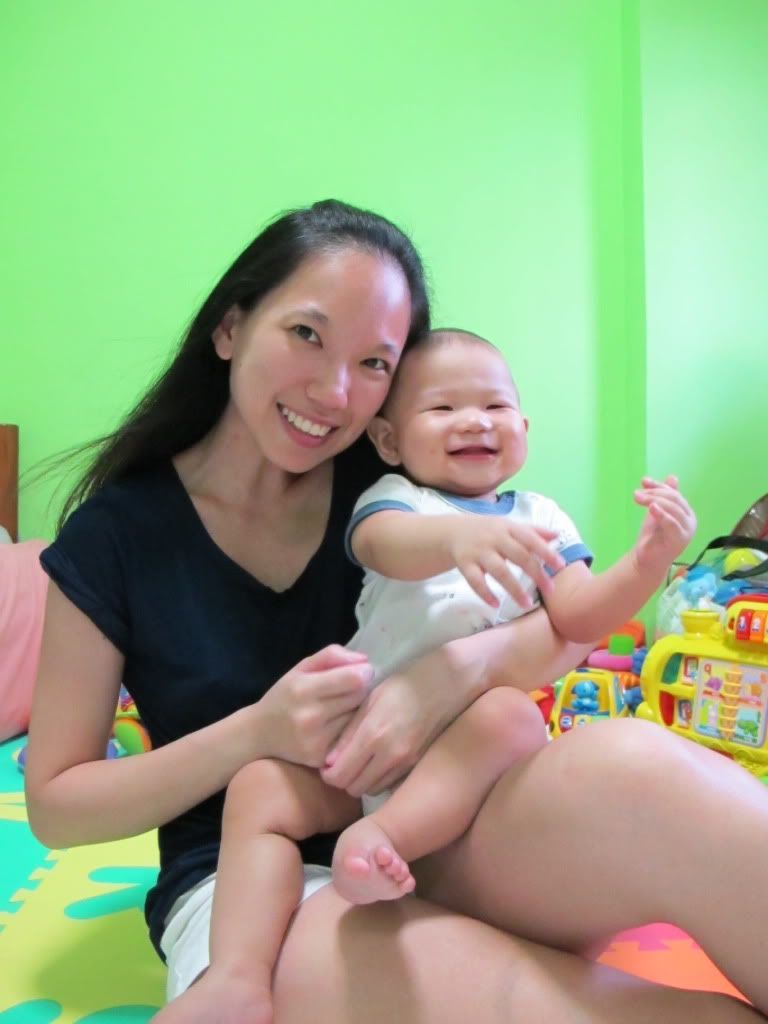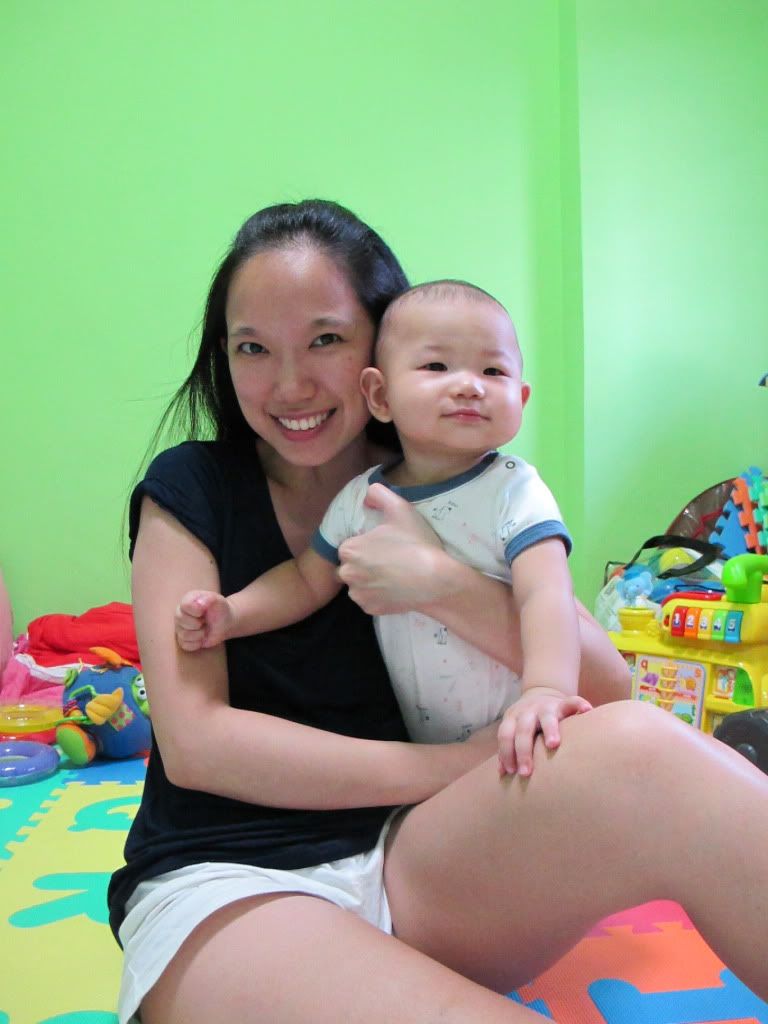 * * *
Mini-update: Been up to my neck with a couple of things at home, and I must admit, I have been pretty lazy during this period (not just with posting entries, but with the housework too... ). Absolutely no motivation to do anything! I have so many entries all done halfway, all cos I'm waiting for the juice to start flowing again. Yes, I'm procrastinating. Sigh. Let me get my momentum back. I'm sure I will. Soon.
19 June 2011: Family photo! Blake at 9 months old!
After Blake's celebration in school, and a trip to the Civil Defence Heritage Gallery, it was time to get down to working on his birthday celebration at home.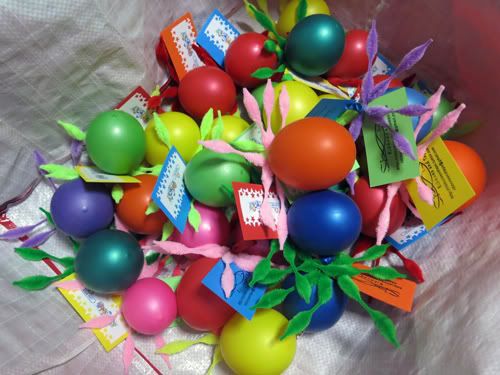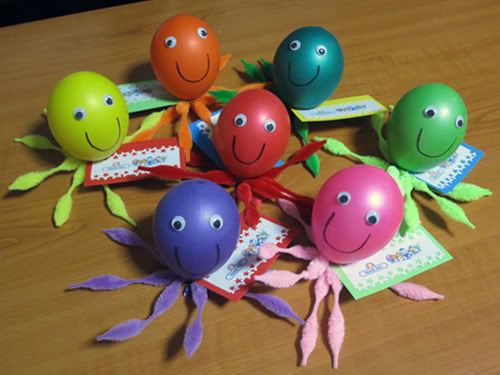 I made these little octopus party favors, in line with his party theme – Octonauts – a cartoon about the marine life. It's relatively easy to make, but boy oh boy, it was really painful on the fingers! But it was all worth it, seeing how it all turned out J
The initial plan for Blake's party this year was to have both BBQ and buffet. We were lucky to have my uncle book a BBQ pit within the condominium he's staying at for the celebration, on the actual date of Blake's birthday! It's also my mom's birthday (same date, different year!), so we combined the birthday celebrations and made it a big party! J
Unfortunately, it rained that evening, so all plans to use the BBQ pit were abandoned. Everything, including the buffet, from the BBQ pit was shifted into my uncle's home before the rain poured. PHEW! And thankfully, there was still quite a good buffet spread to feed all the hungry guests.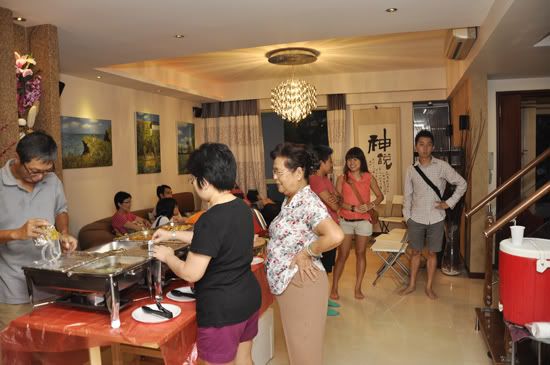 The birthday boy spent most of the time in my uncle's entertainment room with Sean. He was either shy, or it was cooler to be in the room (with aircon switched on and all).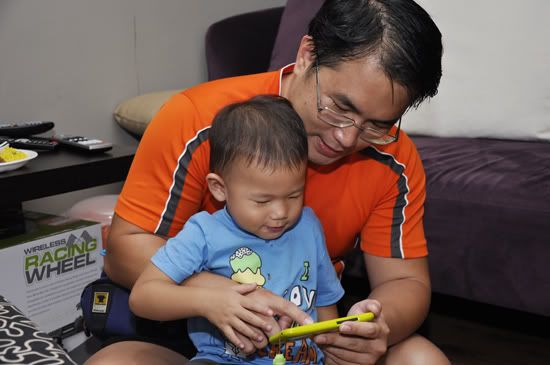 Regardless, when it was time to sing the birthday song and cut the cake, my boy made his grand entrance, after a change of clothes.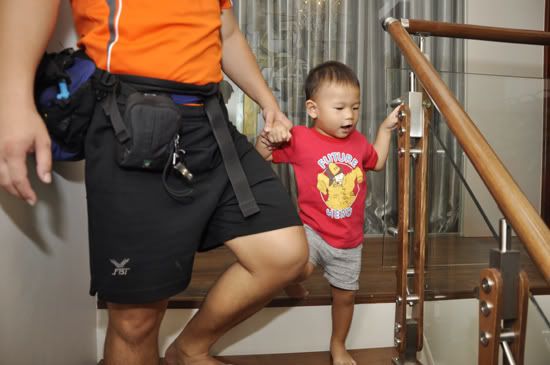 And once again, when he saw his birthday cake, he just stood there and went, "Wow!" Haha, this boy is so cute J
Then it was birthday song singing, making a wish and cutting the cake – the standard tradition for all birthdays.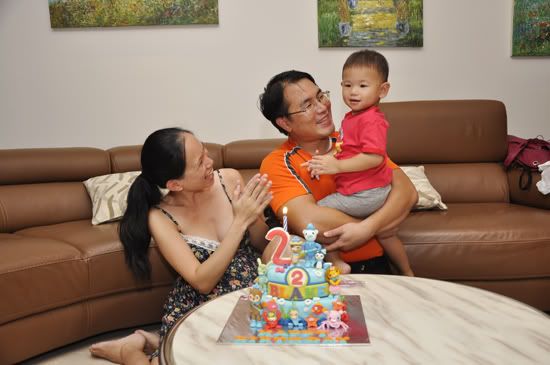 After which, my boy was eager to leave. Haha. He wanted to go to the playground to play, and so he said, "Bye! See you!" to all the guests, while receiving presents and red packets along the way.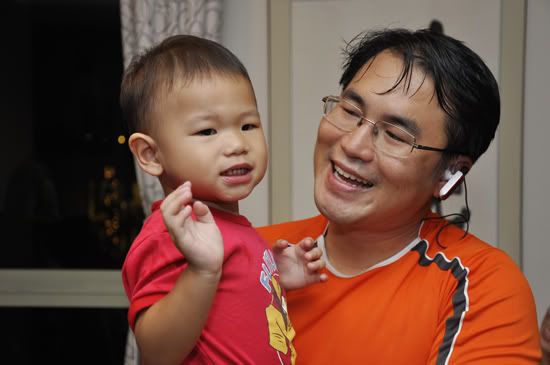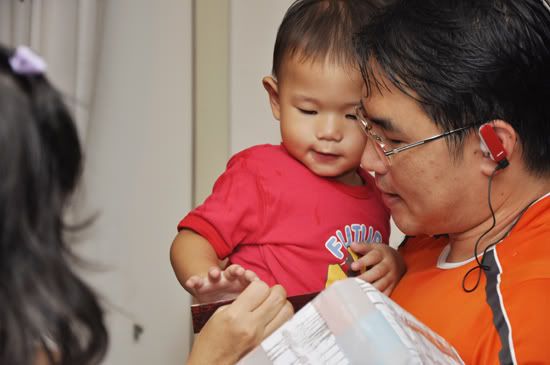 But it wasn't over yet! It was now my mom's turn! J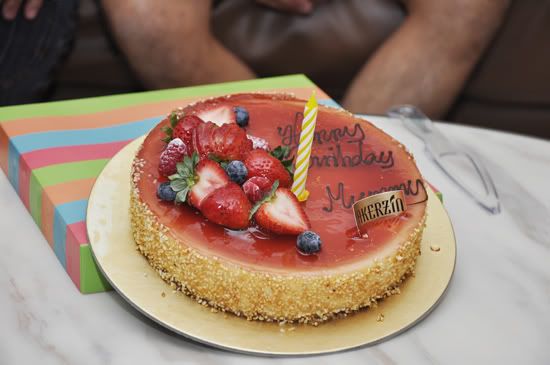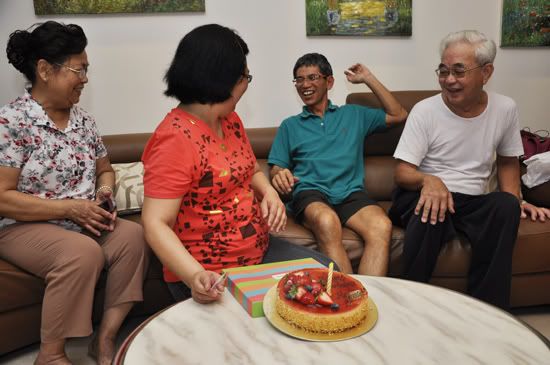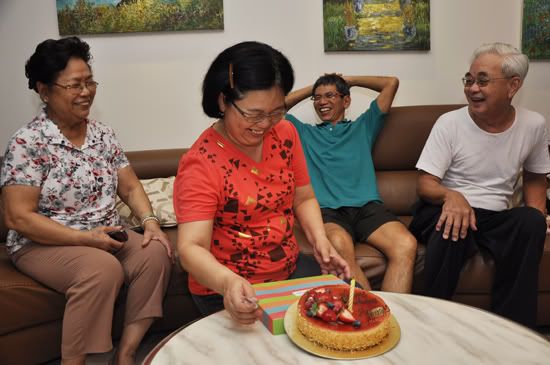 The eager beaver could no longer wait, and started to pout. He became a little grouchy when we kept stalling his time to get to the playground. We had to make sure the rain had stopped completely before bringing him to the playground.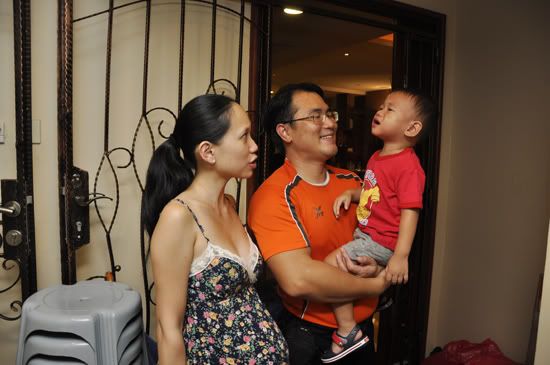 At last, Sean took off with him, and he was a happy boy!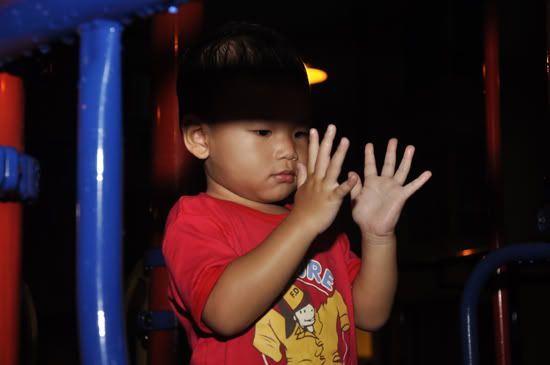 After playing for a while, and realizing that the playground was really wet, Blake decided it was time to head back. When he reached, he was pleased to see the cakes all distributed, with his share still on the table, waiting for him.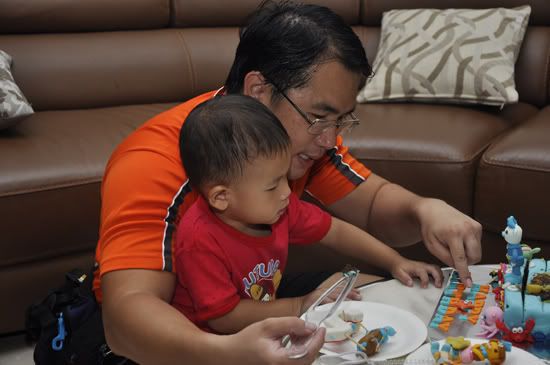 He also became a little more adventurous with the cake, and decided to "knight" the leader of the Octonauts. Haha.
After finishing his cake, Blake opened one of his presents! My aunt had wanted to see his expression. Haha.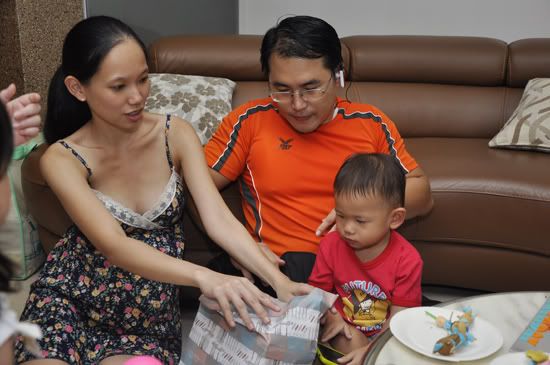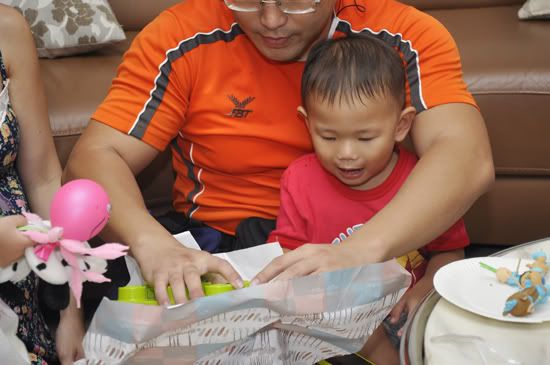 Wow!
Yes, he was mighty please with his Lego Duplo gift (he received two that evening! J), and in a timely manner too! Sean and I were planning to get him some of these blocks to play with, but were deciding between Lego Duplo and Mega Bloks. We couldn't make up our minds! Now, it's been decided for us. Hehe.
The night ended early, as the party was held on a Sunday evening, and everyone either had to work or head to school the next day.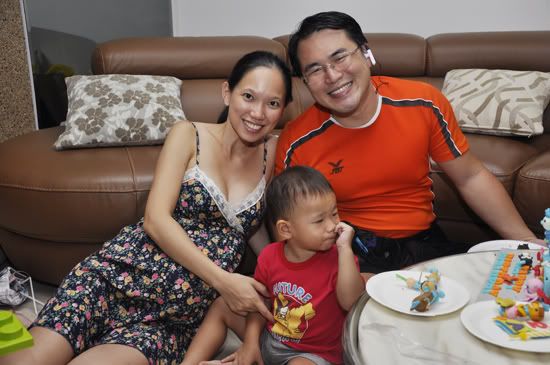 Such a blessed long weekend Blake and us had. Truly amazing.
Once again, I would like to thank Bryan from BLJH Photography for taking such beautiful photos. These memories will go a long way thanks to you J
I would also like to thank Lucille from Lea Vanilla Rosettes for baking one of the most amazing cakes I've ever had, and for being such an awesome baker, accommodating to my requests to have all the characters up for both of Blake's cakes J
Thank you both so much!
And to all who attended Blake's birthday parties, and showered him with gifts and red packets, thank you so, so much! Just to let you know, all the money collected from red packets were all deposited into Blake's education account. Yup, we set up an account especially for Blake's education! J
Ahh, another wonderful year has gone past, but not all parties are over! The next party to plan is my baby's girl's first month celebrations. Hehe.


P.S. Blake was so high that night, that he couldn't sleep. He kept both Sean and me up the whole night. I think he slept wayyy past midnight! And the very next day, when he had to return to school........

Hehe
Related posts:
Blake's 2nd Birthday – Preparations
Blake's 2nd Birthday Celebrations in School
18 June 2011: Cam-whoring in the midst of playing with all his toys! :D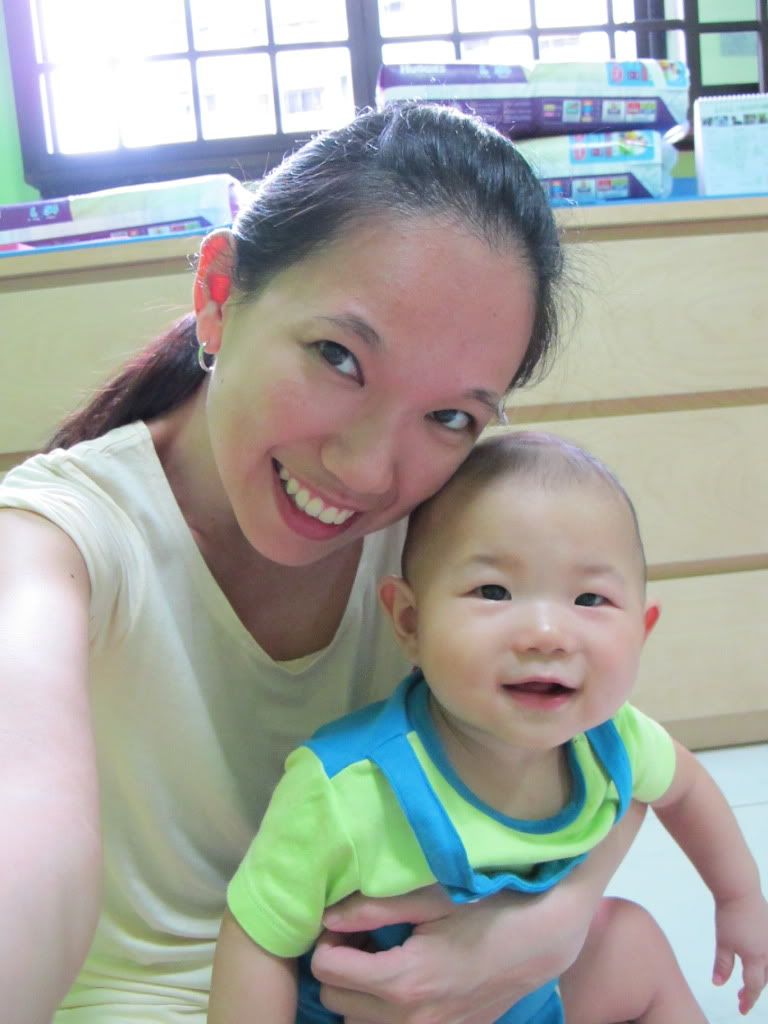 Ah! I'm finally motivated enough to sit down and blog out details of Blake's 2nd Birthday celebration in school, after what seemed like forever! Haha. It's the first time Blake ever celebrated his birthday in school! J
6th September 2012 was the day we celebrated Blake's birthday in school. It also happens to be the day his preschool was celebrating Teacher's Day! And, I found out the day before that there was another boy in Blake's class celebrating his birthday too. I won't deny. I was not very pleased with that revelation. I wanted my boy to feel special cos it's his birthday! I was hoping that Blake would be able to at least have one birthday party to call his own, 100%! Back home, we celebrate together with my mom cos they share the same birth date. Haha. Oh well, I'll make sure to check with the school next year, and arrange in such a way that Blake's birthday celebration in school won't clash with his classmate.
Anyway, Sean was not able to apply for leave that day, due to his packed teaching schedule at work. A teacher's responsibility to the future generation knows no bounds J
Luckily for us, Bryan from BLJH Photography was around to capture the beautiful moments, so Sean did not miss a thing!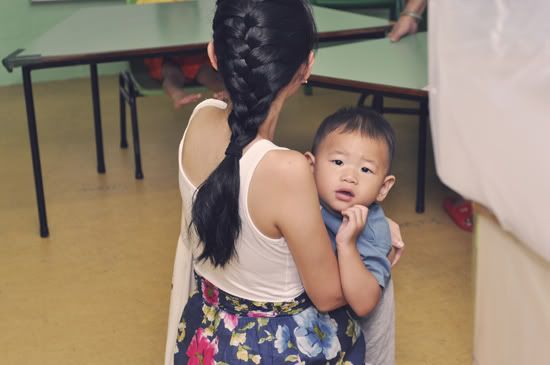 I snucked into Blake's class while his teachers were playing with him. He saw me, and immediately ran to me for a hug. We stayed this way for quite some time before actually starting the birthday celebrations as some of the children were still in a sleepy daze, having just woken up from their nap time not long ago.
I was also explaining to Blake why we were there, and why he was wearing a special number 2 shirt, which my mom bought from USA, instead of his school uniform J

Hmm, am I still one year old?



No! I'm two! J
Poor boy had no idea why there was a big camera constantly taking photos of him. He was still in a sleepy daze, and stayed that way till it was time to eat the cake. Haha. Yes, he takes a while to wake up completely.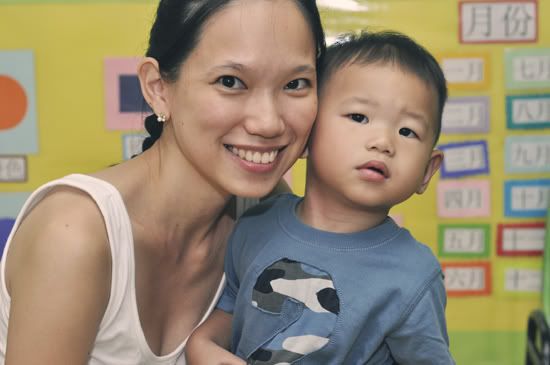 His classmate had his birthday celebrated first, as Blake was still not fully awake, and somewhat clinging onto me.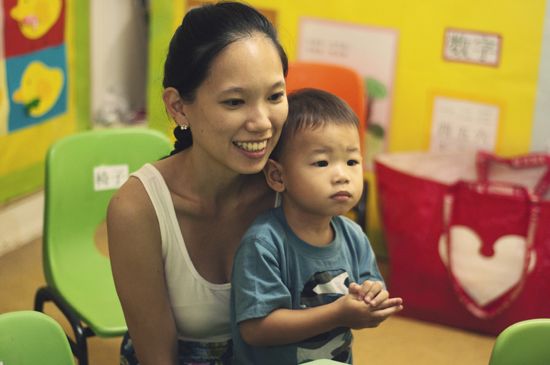 But soon, it was Blake's turn!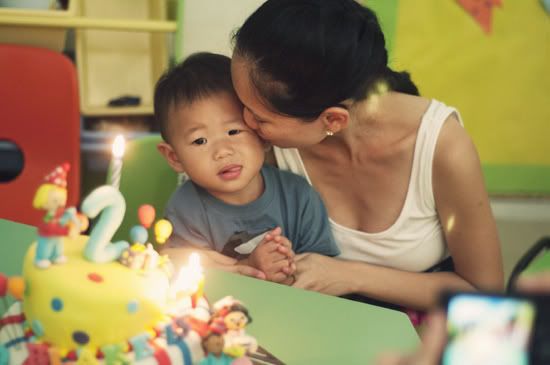 Blake was surprised when he saw his cake. He recognized the cartoon characters, and revealed a slight smile on his face. He did not rush forward, like his classmates did, to attempt to pluck out the cartoon characters though. Haha. He just sat at his seat and eyed his cake with wonder. It was quite a funny sight, cos while Blake was admiring his cake, the adults were holding the other children back to their seats to prevent the cake from being destroyed. Haha.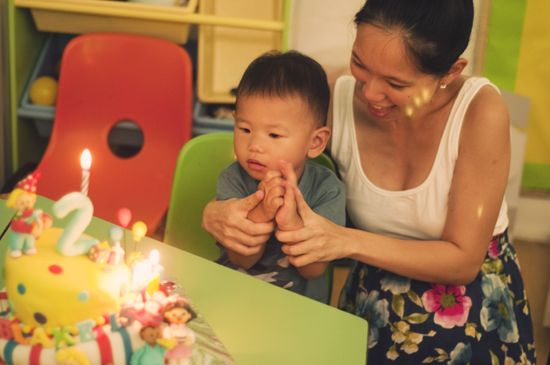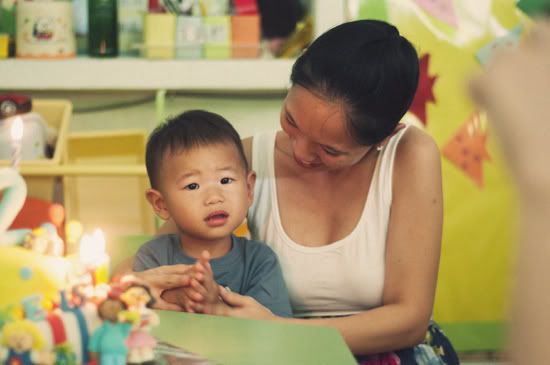 Once the children had settled, we begin singing the birthday song in both English and Mandarin.
Then it was time to make a wish and cut the cake!
Cakes were distributed to all the children and adults in the preschool, and it was during this time that Blake seemed to wake up fully, and understood what was going on. It did not take long for him to be like his usual self again! Cheeky and all J I have a feeling he was in part sleepy, part in shock throughout the whole celebration because for the first time, the birthday song was sang for him!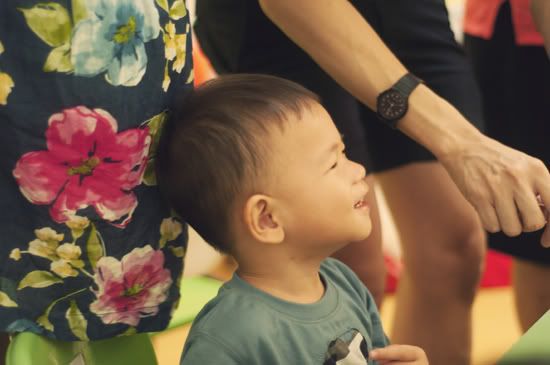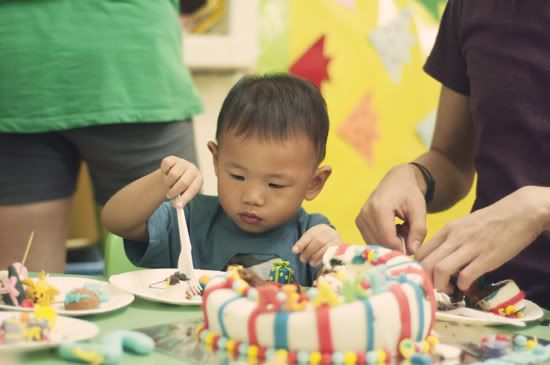 Some of the teachers were telling me how much Blake loves eating cakes, and that whenever there was a birthday celebration, he will wipe out all the cake given to him, and might even ask for more. Haha.

Party favors were all made by yours truly, under my little home business Ribbons and Tape.
Read about the preparations here :)
After all the cakes and party favors were distributed, and the children have had their fill, the teachers started to clear the mess up (toddlers do eat very, very messily!) and it was playtime for Blake's class!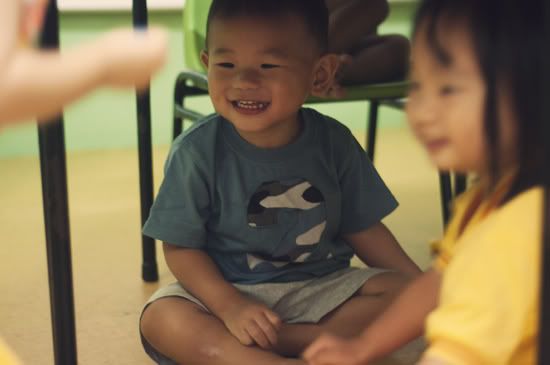 This cheeky boy of mine ran and hid under the table the moment he finished his cake. A couple of his classmates joined him, and they were just sitting there, under the table, laughing. I have absolutely no idea what was going on, but their laughter was so infectious, everyone just laughed along with them.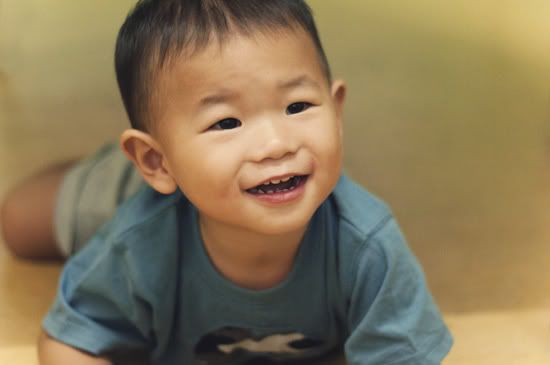 In this photo above, Blake actually held the pose for Bryan before running off. Haha. Love!
Playing with his form teacher, Teacher Meng (蒙老师)
While he was running around his classroom, I grabbed him for a photo. Haha.
After the mess was cleared up, toys were taken out for the children to play.
Look at what funny things Blake does to the soft blocks. Haha.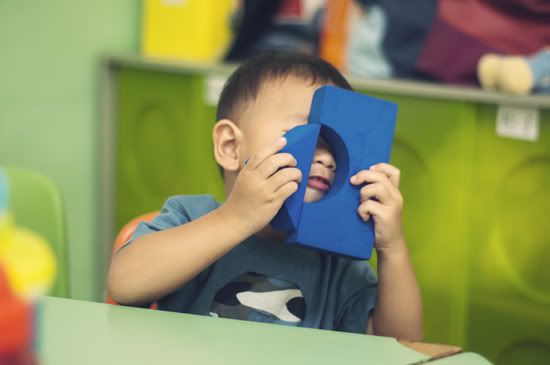 While he was playing with his friends, I spoke with Teacher Meng about Blake's progress, and everything under the sun. I love how I can talk to her about anything. It's like we're old friends or something. Hehe.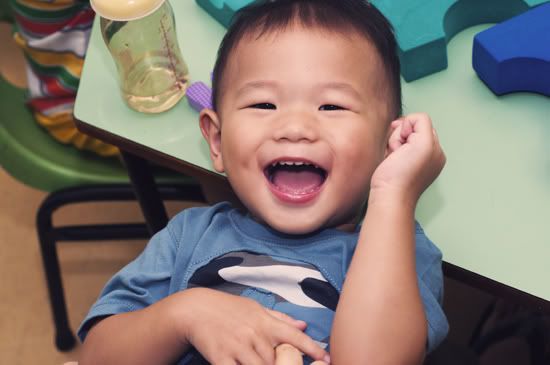 He played a while more with Teacher Meng while I packed up, and soon, it was time to head home!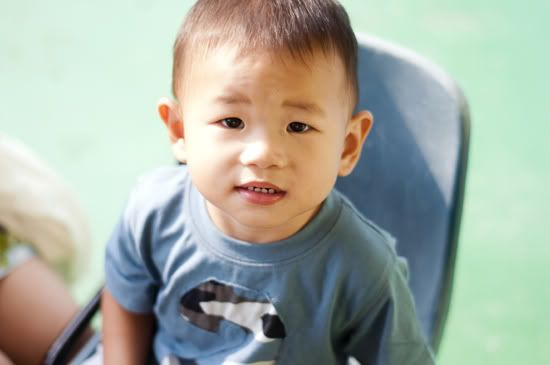 This boy returned home really happy, and was so high the whole evening!
After Blake's birthday celebration in school, I took a break the next day. Sean and I brought Blake to the Civil Defence Heritage Gallery (read all about it here) as a mini treat before starting work on his birthday celebration at home, which was in 3 days time. More about the home party in the next entry J
For now, to end this post, I would like to thank Bryan from BLJH Photography for the lovely photos taken and edited. And also, to Lucille from Lea Vanilla Rosettes, for baking such a stunning and delicious cake for Blake's birthday party in school! J

Related posts:
Blake's 2nd birthday - Preparations
16 June 2011: My boy took his first assisted step with his walker! He could stand, and move a little on his own bed from 7-8 months old, but he never dared to use the walker he had in his room to venture into the world of walking. At 9 months old, we finally got him to stand with his walker, and we got a huge surprise to see him take a step with it!
* * *
P.S. been kind of busy running all sorts of errands (work and personal), and gynae appointments are now bi-weekly. I've also been feeling tired all the time! I haven't had the time (and motivation, since all I want to do is sleep nowadays) to really get down to blog about Blake's birthday parties. And today, Blake developed fever in school! I had to rush over to his school immediately to bring him home. It's also the last lap for this pregnancy! Another 2 more months, and I'll see my baby girl! :)
Decided to bring this particular post forward. It is to mark one year after Blake's surgery last year. Will return to the chronological order of super backdated posts after this.
22 September 2011: Blake went for a surgery about two weeks after celebrating his first birthday. The surgery had something to do with his private and sensitive area. We went to the hospital, praying for the best, but not expecting things to be in our good favor. I was even prepared to bring Blake in for a second surgery when he is older, as part of the recommend process by his specialist.
As it turns out, the result of the operation brought great news to us! Everything went successfully, and it exceeded everything we expected! There will be no need for a second surgery. But the most important of all, we don't have to worry about Blake's self-esteem and emotional confidence when he's older :D

Before going into the operating theatre.
Sean went in with him, and came out after Blake fell asleep from GA.
I waited outside, since only one of us was allowed to follow Blake in.
After Sean came out, we went to grab a bite while waiting for Blake's surgery to be done.
After the surgery, which bore awesome news to us, Blake continued sleeping till the GA wore off in the late afternoon.
By dinner time, he was back to his normal happy self :)
We stayed over for a night, cos I was afraid of possible complications.
His surgeon assured me that it's a normal day surgery and that we can head home, but I'd rather play safe, and have him check on Blake first thing the next morning before going home with a peace of mind.
The day after Blake's birthday celebration in school (will do a post on that as soon as I have the edited photos from the photographer), Sean had the day off so we decided to take Blake out on a trip to visit the Civil Defence Heritage Gallery. I have thought of bringing him down a couple of times, but was never really motivated to. Hehe.
The day started out slow, and we actually spent more time at Funan DigitaLife Mall. Haha. There was an ELM Tree book fair, where we bought over $100 worth of books for Blake, and Sean and I took some time to window shop for a new mobile phone for yours truly. In between, Blake played with ride-on machines, fell asleep, and we had lunch. I thought we would never make it to the gallery, cos it closes at 5pm.
We finally made our way over to the gallery, when we ran out of things to see and do at the mall. We still had about an hour left before they closed.
It turned out to be quite a small place, and we did not even need an hour to explore the whole place! It has two floors of exhibits, with most of the fire fighting related display on the first floor, and the rest on the second.
Blake had the most fun on the first floor. He kept climbing in and out of the fire engines, turned the hose reels, and played with an old school telephone.
He even attempted to climb on fire engine exhibits that prohibit climbing!
He also tried to get Sean to carry him up to one of them, but Sean took him away instead. Haha. It was quite a funny sight cos Blake was going, "No! NO! NO!!!" and kept pointing towards the fire engine he wanted get onto. He even tried to steer Sean towards it by using his body weight while Sean was carrying him.
The second floor has more interactive display, but I guess it's mostly suited for older children. Blake didn't really appreciate it much.
We left after spending about 30 minutes there cos Blake was starting to throw tantrums when he couldn't climb onto some of the fire engines on display. We took the struggling boy out, and when he saw a field with pigeons just next to the gallery, he was back to his normal happy self again.
We gave him time to run and chase the birds before heading over to the club for a swim, dinner and then, finally, calling it a day.